Nepal 2018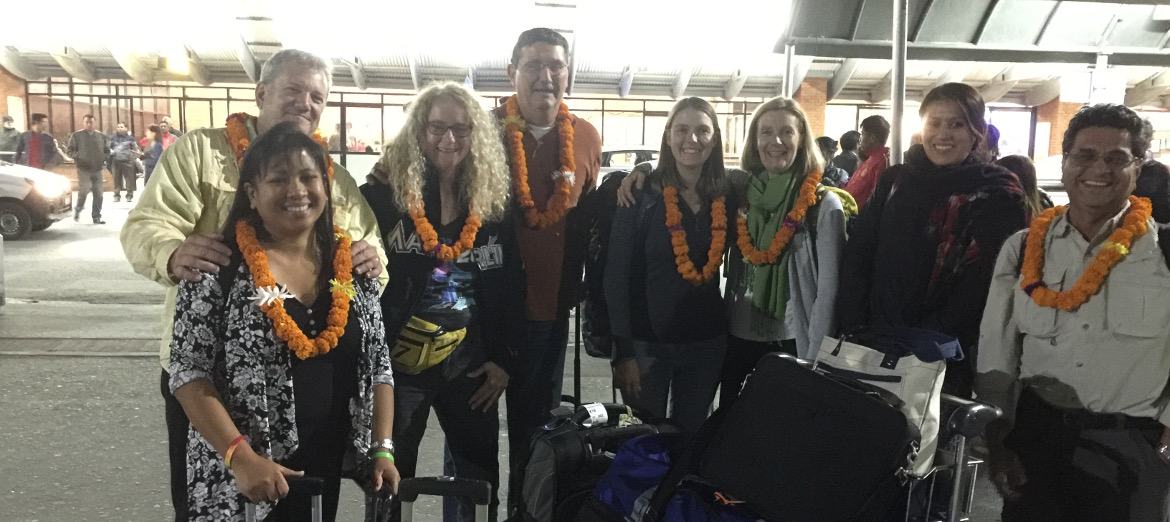 In October 2018 we returned to Nepal for our 3rd visit to the Nuwakot District. We had a team of (4) CDWT Team Members and (4) Guest Travelers on this trip. We want to invite people to visit our projects and then offer some personalized travel opportunities to explore the regions where we are working. Being our 3rd year working in the Newakot region of Nepal we had several projects the locals completed on their own and we were visiting to inspect and celebrate the completion of the water systems. Our previous projects in Kabilash-2016 and Aapchour-2017 exceeded our expectations. The people of Kabilash have expanded the water system we helped put in place and it now services over 600 people. They constructed a 2nd water tank in the lower village and they built a new water tank at the school which was dedicated in memory of Barbara Brown. The people of Aapchour, completed the original project, providing water to 1,000 people., then they replaced the original submersible3/4 hp pump donated by Franklin Electric, with a larger 3hp pump and then paid it forward by gifting the 3/4hp pump to the people of Dhokare Bari. Shortly after the Aapchour water systemwas completed the local government announced they will be installing a municipal water system for the village. When the system arrives, the village will donate the CDWT system to the neighboring village. The people of Korrthok, a village about 1 hour from Kabilash, started construction on a watersystem for 1,000 people and completed the system in just 30 days in time for our arrival. We pledged $1,700 in funds to help cover the cost of their system while the community took up a collection and provided labor and materials. We will also distributed (30) water jugs with filters. Each (5) gallon jug, from ICON LIFESAVER, can filter 20,000 liters of water and will provide clean drinking water for a family of four for up to one year. We are also brought (13) laptops to donate to the school in Kabilash where we setup the first computer classroom in the region. Before we could install the laptops at the kabilash school they told us to redirect 2 of them to the Shree Kalika secondary school down the road. It almost made us weep seeing such generosity, knowing they were willing to give away 2 computers before they even received their first ones. The laptops were generously donated by CDWT supporters, family and friends (Bonnie, Ashley, Arti, Madhav, Carrie, Lillian, Rick&Cordella). CDWT reconditioned the latops with Linux OS and a few new batteries and a few harddrives. Our guest travelers saw the impact of our projects first hand. They also participated in the dedication ceremonies and they had a wonderful journey as they experienced the natural beauty, world heritage sites and flavors of Nepal. Read our blogs to learn more about our Nepal water projects and the experiences enjoyed by members of our travel team.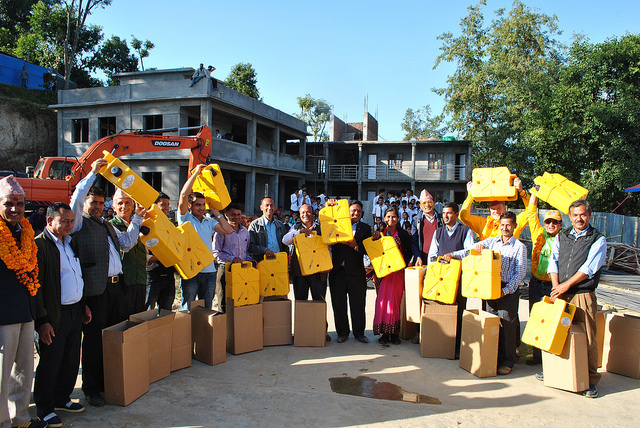 Nepal 2018 Flickr Album
TESTIMONIALS
Awesome trip!! The villages and schools are very deserving and appreciative of the hard work that the Clean Drinking Water Team has completed.
--Rich V.
PROJECT FUNDING and COST DETAILS
We completed all our planned work for the Nepal 2018 project, and then some.
$1,700 (Dhokare Bari water system)
$1,700 (Korthok water system)
$4,050 for (30) LIFESAVER waterfilter jugs & international shipping
$850 (Aapchour upper village water system)
$800 (in-country transportation)
$200 (15day travel visas)
$160 (reconditioning/repairing donated laptops)
$4,800 (room and board for 4 team members)

Please consider donating to help fund our 2019 projects. 100% of your donation goes directly to the project costs.


INCREDIBLE HIMALAYAN TRAVEL OPPORTUNITY
As an effort to increase awareness, gather independent verification and to raise funds for our project we invited a group of travelers to join our us on our Nepal project for an incredible 10 day guided tour. The group traveled with our team to Nepal, staid in the same hotel and spent one incredible day visiting the project sites in the Nuwakot District. We inspected the work completed by the villagers and the group participated in dedication ceremonies at the Kabilash school water tank in memory of Barbara Brown, the Korthok water system dedication and the Dhokre Bari water system dedication. The other days were spent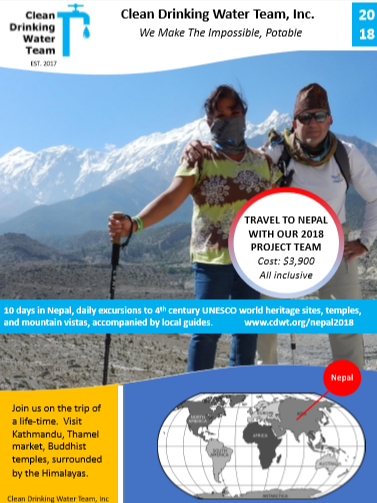 under the care of our trusted partners in Nepal who operate a tour company and transportation company. The group experienced Nepal, escorted by local guides, exploring 4th century Buddhist temples, Thamel market, and UNESCO world heritage sites around Kathmandu valley. There was an option for a 3 night stay in Pokhara to experience the Himalayas close up, including a visit to a mountain top resort and a 2 night visit to Chitwan National Park. The all inclusive cost per travel, for reservations was just $3,900 (incl. round trip airfare from West Palm Beach (PBI) to Kathmandu, Nepal (KTM), travel visas, hotel, breakfast, lunch, ground transportation, daily excursions and fees), this also included a $250 donation towards the Nepal water project.

OPTIONAL SIDE-TRIPS INCLUDED:
>> OPTION 1: mountain flight to view Everest and the Himalayan mountain range ($250).
>> OPTION 2: 2-night trip to lower Mustang Valley, 30 miles from the Tibetan border ($350).
>> OPTION 3: 5-night hike on the Everest trail from Lukla to Tengboche ($400).

ITINERARY & DETAILS (posted:2018-10-25)

EMAIL US if you are interested and would like to learn more about this travel opportunity.

BROCHURE (1.5MB pdf)

12 Best Treks in Nepal

Nepal Chitwan National Park

Nepal Documentary (youtube)

The official tourism website for Nepal

Music Video at Kaze Darbar

Current Weather in Kathmandu, Nepal